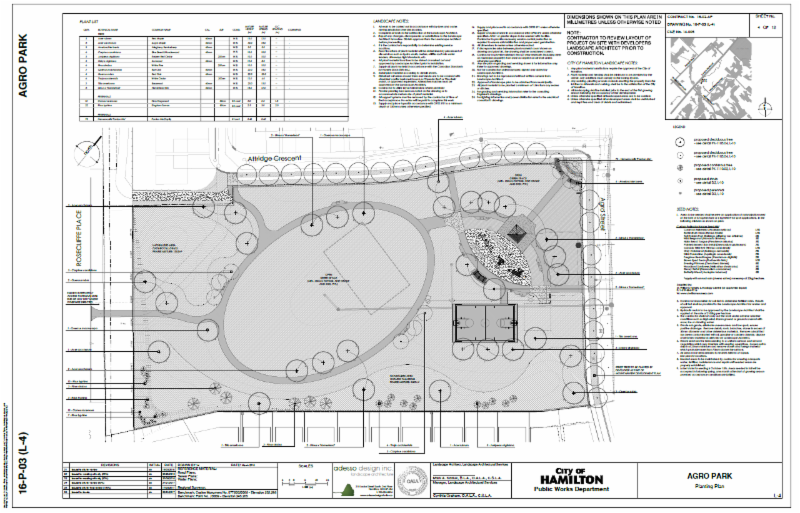 Mountainview Heights is a comprehensively planned community which comprises the majority of the Waterdown South Secondary Plan area. The development is approximately 375 acres in total size, and is to be completed in three phases. The initial phase is complete, with 248 dwelling units and St. Thomas the Apostle Elementary School. Phase 2 is currently underway, with the moving of the piles of dirt on either side of the School. This phase will include new residential and commercial units and the beginning stages of a new park once the western portion of Mountainview Heights is completed.
Construction of Agro Park commenced on May 15th with an anticipated completion later in August 2017 (weather dependent). The 5 acre park will be to the west of the school and another planned park in subsequent phases will be directly to the east of the school. On Wednesday May 24, an official ribbon cutting and ground breaking ceremony was held that included multiple speakers and presenters, including Councillor Judi Partridge, Angelo Paletta and members of the Agro family. It also included a special announcement that the street that runs in front of the park will be named Agro, as well.
The installation of site services (storm sewers, sanitary sewers, water mains, utilities and roads) are expected to continue through August 2017.
When site servicing is completed in the summer of 2017, a second road, similar to Burke Street called Mallard Trail, will be completed and include a bridge, providing a second access into the community from Dundas Street.
To find drafts of the subdivision and phasing plans click here.
Mountainview Heights residents, remember to contact your builder to get your grading deposits reimbursed. Request a security deposit form; fill it out and send it back. They will keep it on file until the city assumes the roads.