News
'All I want to do is help': Crime spree prompts talk of Waterdown neighbourhood watch
Mac ChristieFlamborough ReviewThursday, April 22, 2021
After a rash of vehicle break-ins, Waterdown resident Steve Salama is trying to start a neighbourhood watch in the community.
Salama, who has lived in Waterdown eight years, put a call out on social media in the immediate aftermath of the crime spree.
He was flooded with responses.
"Some of the yahoos in there were saying, 'I"m loading up my shotgun' and stuff like that, but that's not at all what I intended," he said. "I'm definitely not trying to get people together to go out there and beat on people, vigilante-style."
Instead, Salama said he foresees a program similar to the Halton Regional Police's Communities On Phone Patrol (COPP) — which he helped start when he lived in Oakville.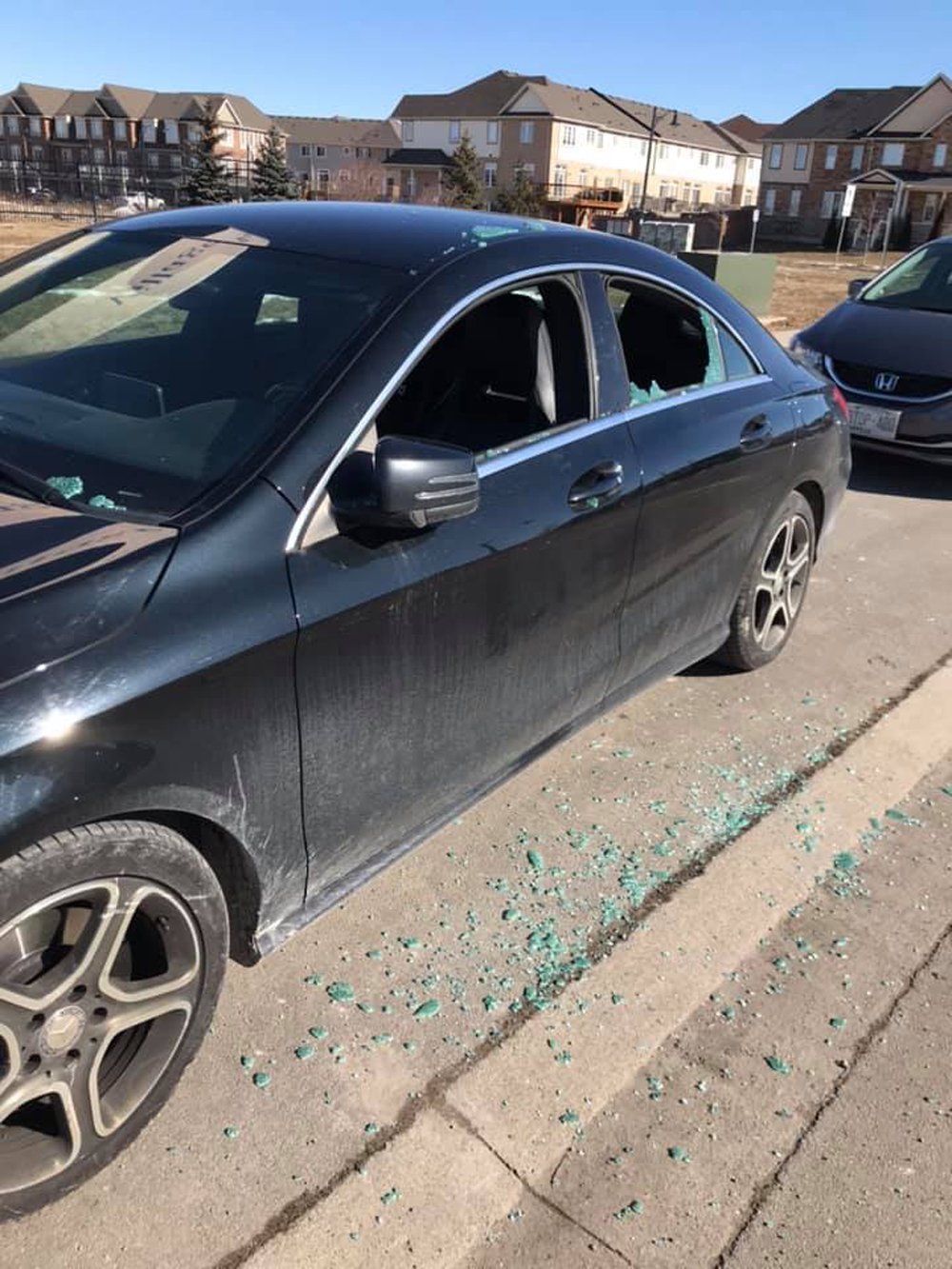 A car on Nisbet Boulevard had its windows smashed as part of a string of vehicle break and enters in Waterdown in March. | Anna Mc/Facebook
The COPP program is a joint effort between Halton Regional Police and Halton Region residents, which sees community members serve as extra eyes and ears, with volunteers observing and reporting suspicious or illegal activities such as vandalism, youth loitering, break and enters and drug and alcohol offences.
"I think that's kind of what Waterdown needs," he explained. "If they're not going to give us any more or less police presence, than we have, then why not get a couple of people together? I'm sure a lot of people have been affected by these break and enters into cars."
The Hamilton Police Service crime mapping tool shows the approximate location of burglaries from motor vehicles in Waterdown during the month of March. Although the map displays 11 vehicle burglaries during the month, police said approximately 20 incidents were reported. According to a police disclaimer, the crime map only serves as a general overview of crime trends in Hamilton. | Hamilton Police Service screenshot
He said thus far, he has about five firm commitments for the project, but he said it would be nice to have closer to 30 people taking part.
Salama said he has spoken to police about starting the initiative, who said they love when programs like the one Salama is trying to start take off, but often they peter out after the effort to get them going. He said he is waiting to hear back about next steps.
"It's going to be a slow process — all I want to do is help."
Hamilton Police media relations officer Const. Inderjit Bharaj said the police service supports community-led initiatives, such as a neighbourhood watch.
"We encourage neighbours to look out for one another and to report all incidents of suspicious activity and of course report crimes, so they can be investigated and tracked," he said in an email. "It is important to recognize that criminals find it difficult to operate in neighbourhoods where citizens take an active role in preventing crime."
Bharaj said anyone looking to start a neighbourhood watch should contact the Crime Prevention Unit at 905-546-4903 for more information on organizing a program.
In regards to vehicle entries that prompted Salama to try to start a program, Bharaj said in an email that police are "actively investigating a spree of vehicle entries that have been occurring through the city — including Waterdown." He said police believe the entries to be random in location and during two separate evenings during a two-week period in March, approximately 20 vehicles were reported to have been entered.
Bharaj added as a result of the public concerns related to the break-ins Hamilton Police have increased the police presence in the area, Bharaj said, adding police encourage the public to report all incidents of suspicious activity so they can be investigated and tracked.
"Even if nothing was taken from a vehicle and damage was minimal, please report it," he said. "This information is important as we look into these crimes and deploy resources accordingly."
To report a non-emergency crime, call 905-546-4925 or to report online visit www.hamiltonpolice.ca/report-crime/online-reporting.
For her part, Ward 15 Coun. Judi Partridge said she supports residents taking part in the structured community watch program in conjunction with police.
"What we don't want is for a vigilante group to get together," she said, noting she has heard concerns from racialized residents about unsanctioned groups getting together and potentially targeting them. "I absolutely would not support an activity that would make people in our community feel unsafe."